IP Video Transcoding Live!16 Channel V6.2.5.1a_With_Crack

​
IP Video Transcoding Live!
(IPVTL) is multiple channels live transcoding software. It is designed for live video streaming over the internet, IPTV cable and satellite TV digital video broadcasting, video surveillance and event webcasting.
IPVTL provides high-density transcoding capability with the lowest latency. Running on high performance generic Intel / AMD64 a and NVIDIA Quadro / Tesla graphics processors, IPVTL transcodes up to
64
channels full hd1080p @ 30fps H.264 video on 1 dedicated server.
IPVTL has full support of media encoding formats, from traditional to modern types, such as
G.7xx, MP2/3, AMR, AAC, OPUS, AC3, H.263(+), H.264/AVC, H.265/HEVC, AV1, MPEG-1, MPEG-2
and
MPEG-4
, also HTML5 video formats
VP8/VP9
included.
IPVTL accepts all kinds of media streaming formats, from video clips and TV capture/tuner cards to internet streaming like
HTTP, FTP, MMS, RTSP, RTMP, RTP, NDI, SRT
and
MPEG-TS
(DVB-S).
It works perfectly with the most popular live-streaming CDN service providers listed below Wowza Streaming Engine, Nginx-RTMP, as well as common DVB IRD devices with SDI like Dreambox® and BlackMagic Decklink cards.
Version Updates​
v6.2.4.4a
HTML5 web video output in MP4
Real time video preview in HTML5 web page
AMD AMF H.264 & HEVC encoding
Intel QSV decoding & full gpu transcoding
AV1 encoding defaults to realtime (fast) mode
HTTPS support in web UI & output stream
v6.1.4.4b
Return of HTTP output
Fix NDI source long time detection
Fix Intel QSV fail with multi-monitors
Fix MJPEG over HTTP output
v6.1.4.4a
Full functional web config UI
Very strict CBR MPEG TS output
FTP/SFTP input/output
H.265/HEVC encoded RTMP output
Easier MPEG TS Source Stream Selection
Intel QSV accelerated VP9 encoding
HLS DRM encoding (AES128 encryption)
Improved default H.264 encoding quality
Transcoding web API
New JSON formatted config file
v5.13.4.3
AOM AV1 video encoding
WebM Opus audio encoding
File segment output
Fix Facebook Live secured streaming
Fix occassional AAC decode failure
CPU Load Monitor UI
Show Video Frame Rate in Channel Status
Configuration Import/Export in Web Interface
v5.12.4.1
NVDEC accelerated HEVC decoding
Switch to 64bit core on Windows
Google VP8/VP9 codecs
User Access Control in Windows UI
NVIDIA scale_npp acceleration
Secure Reliable Transport (SRT) support
Newtek devices select UI
Fix secured RTMP (rtmps) streaming issue for Youtube/Facebook
Folder streaming on Linux & new recursive mode
Remove RTSP Output Support
HTTP Output Limited to 1 Client Only
Remove Time Shifting function
v5.12.3.4
Video Scan Type Option (Interlaced Encoding)
Alsa Input on Linux
DASH Format Input Support
Folder Streaming Bug Fix
Audio 7.1 Channel Output
Overlay using Video URL
Newtek NDI Input & Output
More MPEG-TS Options (Video/Audio pid, PCR pid, PMT pid)
Show less...
v5.11.3.4
Fix Multiple Processor affinity Issue on Windows
MJPEG Output Format Support
MPEG-TS Options (program ID, name, provider)
Log File Auto Clean
DeckLink Device Format Selection
Text Overlay
V4L2 Input Support on Linux
NVDEC/CUVID Acceleration for H.264 Decode
v5.10.3.3
HE-AAC Encoding & E-AC3 (AC3+) Encodings
Intel Quick Sync Accelerated HEVC Encoding Bug Fix
NVIDIA CUDA/CUVID/NVDEC Accelerated H.264/HEVC Decoding UHD/4K Video
Easier RTMP Pushing to Youtube and Other Flash Sites
More Advanced Settings (RTMP/HLS/Timeshifting) Available in Web Interface
License Activation Thru Web Interface on Linux
Enhanced Web Interface Security (Login Password & IP Whitelist)
Blackmagic DeckLink Capture / Playback Card Enumerator on Windows
Multi-bitrate Profiles for UDP Output
Fix PCR Accuracy Issue in UDP MPEG TS Output
UDP MPEG TS CBR Output Optimzation
CPU Affinity Management (Processor Load Balance) on Linux
Video Key Frame Interval Setting Change to Unit in Seconds
v5.9.3.0
MPEG DASH Output Format
Web Interface to Edit Channel Settings
Fix Intel Quick Sync Video Acceleration Issue on Linux
Daemon (background) Running Mode under Linux
v5.8.3.0
RTSP Output Format
Web Interface for Live Channel Status Management
v5.7.2.8
CPU Affinity Management (Processor Load Balance) on Windows
Enhanced Streaming Failure Recovery
v5.6.2.8
Optimized software H.264 Encoding performance on Multiprocessor System
Presets for NVIDIA NVENC Accelerated encodings
Intel QSV Acceleration Bugfix on Linux
Blackmagic Decklink Video Card Input & Output support on Linux
v5.5.2.8
Intel Quick Sync Video accelerated HEVC Encoding (requires Intel 6th/7th generation Skylake / Kaby Lake Core processor)
v5.5.2.7
Intel Quick Sync Video accelerated H.264 Encoding. See
on Intel website
v5.5.2.6
NVIDIA NVENC (GPU accelerated) H.264/HEVC Encoding. See
on NVIDIA Website
Smarter Detection of Dead Streaming
v5.4.2.6
H.265/HEVC Encoding Support
DXVA2 Accelerated Decoding
v5.3.2.5
MPEG-DASH Segmenting Muxer
Potential Memory Leak Fix in Folder Streaming
v5.2.2.2
HTTPS Input support
MPEG-TS over RTP Input support
HLS Multi-bitrate Streaming
Optimized Time Shifted Streaming with Break no more
Animated Logo Overlay Support (through GIF)
v5.1.1.2
M3u8 Playlist (HTTP Live Streaming) Output support
RTMP Multi-bitrate Streaming
Improved Streaming Performance
v5.0.1.2
MPEG-TS over HTTP output support
H.264 Encoder Upgrade with New Profiles
New UI for Source Stream Selection (with MPEG-TS Program Selection)
RTMP Tunnelling Support
Source & Target Custom Parameters
Memo for each Channel
v4.9.11.2
MPEG-TS DVB Subtitle Stream Pass Thru
Live Stream Time Shifting on Linux
v4.8.11.2
v4.8.11.1
DirectShow Capture Source Support
CBR Mode for MPEG-TS Output
v4.7.8.11
RTMP SWF Verification Support
v4.5.10.0
Live Stream Time Shifting on Windows
New UI for Advanced Format Settings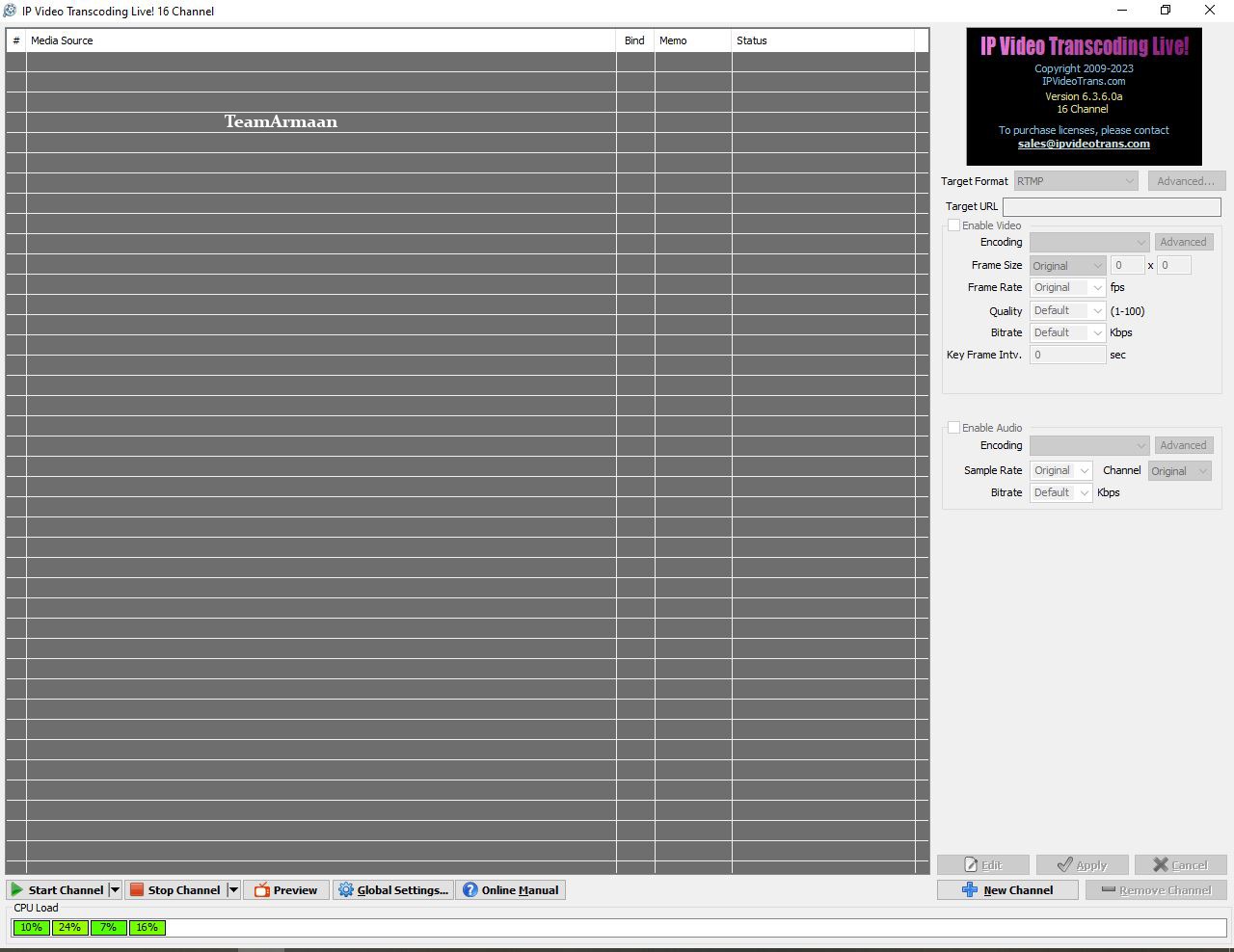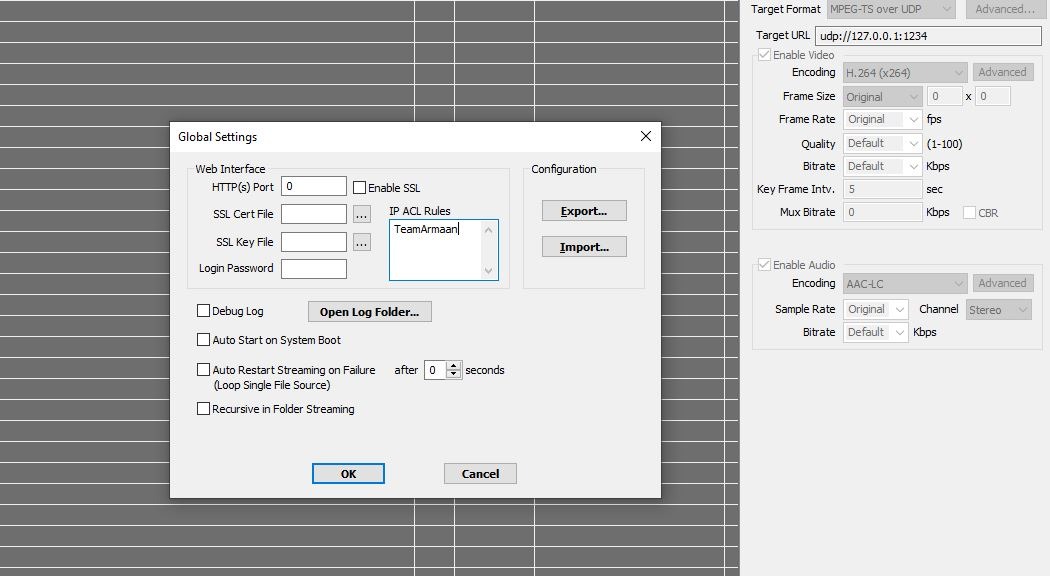 IP Video Transcoding Live! 16 Channel V6.3.6.0a With Crack
This Software is Available with open Crack There is no user limit to this You can install it on multiple PCs





You can check it comfortably on Anydesk before buying it, and when you are satisfied then buy it.



For that, you get on ID which is given below.
​
View attachment 665